Welcome to
The White Ironstone China Association
Where Fine Detail, Great Marks, Great Sculptural Form, and
Wonderful White Color Come Together
-Ernie Dieringer, a founding member of the White Ironstone China Association
New Book Available
Visit the WICA Shoppe for details and to order a copy of our newest publication: The Cherished Relish, A Guide to White Ironstone Pickle Dishes of the 19th and Early 20th Centuries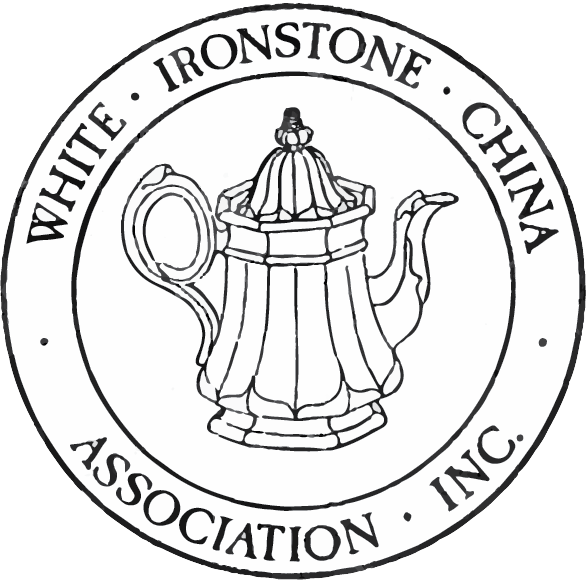 Register Now to Attend WICA's 27th Convention
April 28-29, 2023 - Registration only $50 per person
Crowne Plaza Columbus North - Worthington
6500 Doubletree Avenue, Columbus, Ohio 43229
Join old and new WICA members for a fun-filled weekend of:
Educational programs including the Show, Tell and Ask during which members may present one or more items that are of special interest to them, and the audience may ask questions or help identify the items.
A dazzling display.
Opportunities to purchase white ironstone during both the Show and Sale and the Tops and Bottoms and Spare Parts Sale. Any WICA member may sell white ironstone at either of these events.
The $50 registration fee includes hors d'oeuvres during the Meet and Greet as the convention opens at 2 p.m. on Friday plus two buffet dinners and one lunch. Click on the links below to access the Registration Form (you can also join WICA or renew your membership using this form), Show, Tell and Ask Participation Form, welcome letter, schedule-at-a-glance, and hotel floor plan.  Both forms and a check payable to WICA, Inc. are to be received by April 10, 2023.
Reservations must be made by April 6, 2023, by calling the Crowne Plaza Columbus North – Worthington directly at 614-885-1885 Monday through Friday between 8:00 a.m. and 5:00 p.m. E.S.T. Remember to mention WICA when making your reservation to insure you get the special rate of $115 plus tax, per night, which includes two breakfast buffet coupons daily. The hotel can accommodate our members' special needs, and parking is free.
Questions? Email WICA@whiteironstonechina.com
Event Information
Show, Tell and Ask Participation Form
WANT TO LEARN MORE ABOUT WHITE IRONSTONE?

Option 1:  RECEIVE THE FREE E-NEWS
filled with educational information and announcements.
Click here and complete and submit the form.

Option 2:  BECOME A MEMBER FOR JUST $40 PER YEAR
FOR TWO PEOPLE AT THE SAME ADDRESS. 
Click on the JOIN/RENEW WICA page and complete the online form and pay via PayPal
OR
Scroll down the page to "Print the Form and Pay by Check". Then download, complete, and mail the membership form along with a check to the address provided.
The White Ironstone China Association (WICA) welcomes anyone who is interested in 19th and 20th century white ironstone china. Established in 1994, WICA is a not-for-profit 501(c)iii corporation. Its purposes are to educate, stimulate, and maintain an interest in all matters pertaining to white ironstone china, and to promote the interchange of information between members in various parts of the world.
Visit the Join page to learn more about how to join the White Ironstone China Association.